Feel the flow
L'eBike mette le ali alla nostra mobilità e rappresenta uno dei più agili, comodi e semplicemente più intelligenti mezzi di trasporto dei nostri tempi.
All Bosch products are characterised by outstanding quality and a long service life, fascinating technology paired with modern design. Highly efficient drive motors, high-quality rechargeable batteries and smart on-board computers combined with the high technology skills of Atala R&D department whose experts study the integration of all components, lead to the development of the best performing eBikes on the market.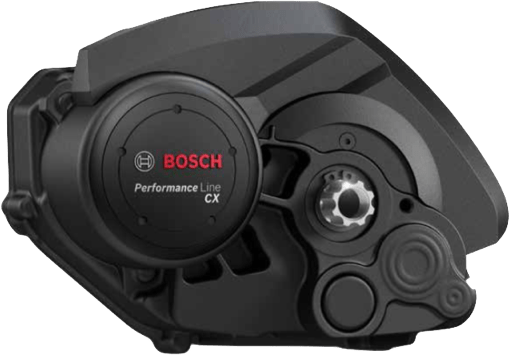 Drive Unit
Whether you're in the city, on trails or in alpine terrain: with the right Drive Unit, every bike ride will be your very own, enthralling eBike experience.
The Drive Unit is composed by the following components located into the BB set: the motor, the electronic controller and the sensors, that ensure an energetic, progressive and direct assistance with a thrust up to 25 km/h.
A NEW ERA
No path too steep, no challenge too great: the new Performance Line CX is made for anyone for whom the trail is a second home. The most powerful drive from Bosch for ambitious riders is particularly lightweight and compact and has minimal pedal resistance. The Performance Line CX accelerates extremely powerfully, responds without delay and features convincing agile handling and even more control.
SPORTY RIDING ENJOYMENT
The multi-sensor concept enables a dynamic and responsive drive unit response for precise acceleration and a unique trail experience.
MINIMAL PEDAL RESISTANCE
Sustained support up to 25 km/h, even on long mountain rides.
COMPACT CONSTRUCTION
2,9 kg with a size reduced by 48%!
MAXIMUM TORQUE 75 Nm
Powerful acceleration despite compact size.
MAXIMUM SUPPORT 340%
For powerful acceleration, an extremely sporty riding style and fast sprints.
Overview
Product line
Performance CX Line
Performance Line
Active Line Plus
Active Line MY2017
Active Line
Rear derailleur
External shifting
External shifting
Internal gear hub
External shifting
Internal gear hub
External shifting
Internal gear hub
External shifting
Internal gear hub
Nominal Power [W]
250
250
250
250
250
250
250
250
250
MAXIMUM SUPPORT [%]:
Turbo
300
275
260
270
250
250
225
250
250
eMTB/Sport
120-300
190
170
180
170
150
150
170
170
Tour
120
120
110
100
100
100
100
100
100
Eco
50
50
50
40
40
40
40
40
40
MAXIMUM TORQUE [Nm]:
Turbo
75
63
50
52
50
52
48
40
40
eMTB/Sport
75
55
50
45
45
45
45
38
38
Tour
50
50
45
40
40
40
40
35
35
Eco
40
40
40
35
35
35
35
30
30
Assistance [rpm]
Turbo
120
120
120
105
105
100
100
100
100
eMTB/Sport
120
120
120
105
105
100
100
100
100
Tour
120
120
120
105
105
100
100
100
100
Eco
120
120
120
105
105
90
90
100
100
Ready
Very sporty
Sporty
Dynamic
Moderate
Moderate
Gentle
Gentle
Gentle
Gentle
Top speed assisted [km/h]
25
25
25
25
25
25
25
25
25
Sensor Gear Change
Yes (dynamic)
Yes
No
Yes
No
Yes
Np
Yes
Np
Weight [kg]
< 4
< 4
< 4
3,2
3,2
< 4
< 4
2,9
2,9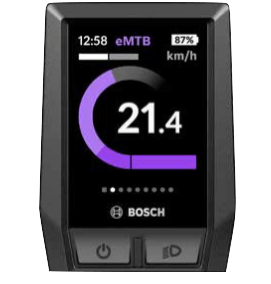 Display
The perfect companion for every rider: Bosch has developed five different on-board computers with the Purion, Intuvia, Kiox, Nyon and the new Smartphone Hub, thereby addressing the individual needs of eBike riders.
SMARTHPHONE HUB
The SmartphoneHub transforms the pedelec into a fully networked eBike and part of digital life: thanks to the smartphone and the COBI.Bike app, the SmartphoneHub can become an intelligent control centre that navigates, records activities and
connects them to other services and apps.
CONNECTIVITY
The SmartphoneHub and the COBI.Bike app connect the eBike to the
digital world - from navigation, music streaming, fitness tracking, or
pairing to other services and apps such as Strava or komoot.
INTEGRATED DISPLAY
The pedelec can also be controlled without a smartphone using the
1.52-inch LC display integrated in the SmartphoneHub. The display
shows the most important riding data.
INTELLIGENT SOLUTION
The combination of SmartphoneHub, COBI.Bike app and smartphone
creates a completely connected riding experience. At the same time,
the eBiker enjoys maximum flexibility and can use their eBike with or
without a smartphone connected.
NAVIGATION
The COBI.Bike app points the way - with optional 2D or 3D map view. The navigation instructions are also issued by voice output.
LIVE WEATHER
The carefree way to cruise through the countryside: up-to-the-minute weather forecasts and precise weather data ensure that eBikers are always well-informed thanks to the COBI.Bike app.
REMOTE CONTROL
The separate control unit enables eBikers to control all functions easily, safely and comfortably from the handlebar.
FITNESS DATA
The COBI.Bike app gives eBikers a permanent overview of the most important training data such as performance, cadence and calorie consumption; this information can also be played back at the press of a button. It is also possible to connect a heart rate monitor.
ENTERTAIMENT
Listen to your favourite music or the latest thriller: the eBikers access to music and audio book streaming services, such as Spotify or Audible.
OPERABILITY
Get started: the eBike can be operated intuitively with the smartphone and is designed for easy handling thanks to the control unit and voice output.
CHARGING FUNCTION
The smartphone can be connected to the SmartphoneHub and conveniently powered from the eBike battery.
WIRELESS UPDATE
Always up-to-date: software updates for the SmartphoneHub can be installed with ease using wireless technology with the help of the app
The Nyon all-in-one on-board computer combines navigation, eBike control, riding data and a host of other features in a single device. You can use the eBike Connect app to connect Nyon to your smartphone via Bluetooth. Nyon can be operated by means of a separate control unit with a multi-way joystick using the thumb - the rider's hands remain on the handlebar at all times.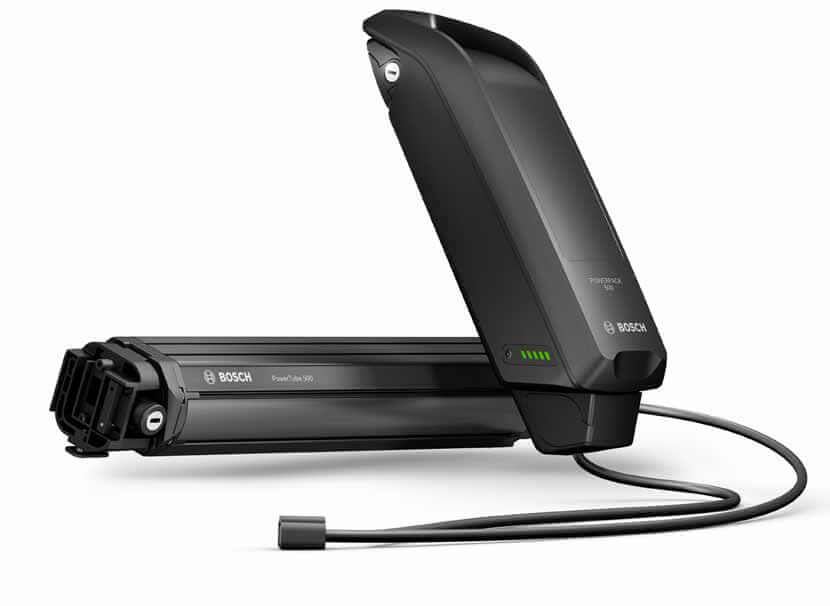 Battery
Leggere e con alto potenziale energetico grazie alla tecnologia a ioni di litio. Differenti capacità, per viaggi tranquilli, tragitti quoti- diani casa/lavoro, uphill flow estremo.
625 WH
What else? The PowerTube 625 let's you ride long and mountainous rides, bringing maximum ranges and altitudes within reach.
500 WH
The PowerTube 500 enables trekking and eMountain bikes to take long distances in their stride.
400 WH
The PowerTube 400 brings city bike styling on tour.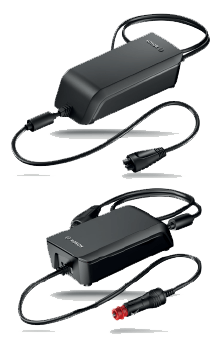 Power Supply

Bosch has developed three models that will charge your eBike quickly and reliably, wherever your journey may take you. Bosch chargers are handy, lightweight and robust.
The Fast Charger is currently the fastest eBike charger on the market and will recharge the eBike battery in the shortest possible time. . The Fast Charger needs just over 1 hour to charge a battery to 50% capacity.
E-Bike with elettric kit

Bosch